I read everything Laura writes and collect hardcover editions of her work. WHAT'S DONE IN DARKNESS contains her trademark tropes of small-town secrets in the Ozarks, poverty, intergenerational abuse and family ties.
Seventeen-year-old Sarabeth's world turns upside down when her family moves to a remote rural region of Arkansas, start home-schooling their children and join a conservative church.
Sarabeth is abducted near a cornfield by a masked man, taken to a unidentified spot, blindfolded, chained to a wall and held captive. When she is returned and dumped by the road a week later in a bloody nightgown, her family and the police refuse to believe her story.
The second timeline is Sara (Sarabeth) five years later, now working in an animal shelter near St Louis, trying to escape her past. Investigator Nick Farrow contacts her as girls have gone missing in cases similar to her own and he wants Sara to return with him to the scene where she escaped not only her masked abductor but her controlling religious-zealot family.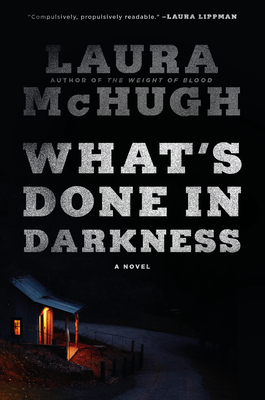 This is a slim book but it's spellbinding and Laura manages to pack a lot in examining issues such as home-schooling, religion and victims of crime not being believed in some cases. Laura's work is always evocative, unsettling, beautifully written and expertly plotted. From her debut with THE WEIGHT OF BLOOD, I've been a fan. Laura grew up in the Ozarks, she has first-hand experience of the towns she writes about and that comes through in the landscape descriptions and characters. She is interested in True Crime and has recently started a Tik Tok highlighting cases of missing women in her community ignored by the media.
Laura's website can be found HERE