CIRCLE OF NINE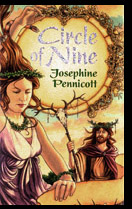 Emma Develle is a struggling artist with an extraordinary talent, the gift of second sight. Her investigations into the apparently supernatural murder of her aunt lead her into the parallel land of Eronth, a magical world where ancient goddesses are engaged in a power struggle with a fallen angel race, the Azephim, who are attempting to charge the sacred Eom crystal – the source of power for all the known worlds.
Emma befriends the crone Khartyn and her apprentice Rosedark. They recognise Emma as the prophesied Crossa – a traveller from another world with the ability to prevent the Eom from charging.
Emma, Khartyn and Rosedark embark on a perilous quest to prevent the Azephim from using the Eom to destroy the Faiaite people of Eronth, who are weakened by famine – the goddess Persephone has thrown the seasons into chaos by refusing to rise from her exile in the Underworld. Meanwhile, the Webx tree people cross to Eronth to reclaim the Eom, which the Azephim stole from them on the Day of the Ashes. They are challenged by the ancient Faery tribes of Eronth, who are themselves under threat of extinction from the Azephim.
Emma endures the Great Rite at Belthane, where she is reunited with her soul mate, the Stag Man, and finally must enter the Underworld to face the greatest challenge of all – can she convince the goddess Persephone to rise?
(published by Simon & Schuster)