Award-winning thrillers edited by Lindy Cameron, Scarlet Stiletto: The First Cut (Mira, 2007) presents a superb collection of spine-chilling crime fiction stories culled from the annual Scarlet Stiletto Awards presented by Sisters in Crime Australia.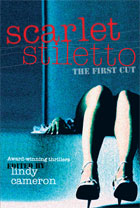 You'll find the whole gamut, from murder and mayhem to police procedurals, right here. Some will have your blood running cold, some will raise gooseflesh as well as a chuckle…but all will have you one the edge of your seat, and wanting more.
Stories by Bronwyn Blake, Roxxy Bent, Margaret Bevege, Ronda Bird, Louise Connor, Liz Cameron, Sarah Evans, Liz Filleul, Dianne Gray, Jacqui Horwood, Cate Kennedy, Christina Lee, Siobhan Mullany, Tara Moss, Kerry Munnery, Phyl O'Regan, Ann Penhallurick, Josephine Pennicott (Birthing The Demons), Margaret Pollock, Inga Simpson, Janis Spehr and Julie Waight.
"A crime and mystery story collection of startling originality; a grim warning of what evil lurks in Australian suburbia." Kerry Greenwood.
purchase from HERE