I miss my art school days, my studio space at COFA in Paddington,Sydney. The smell of turps, going to art galleries and rooftop art parties.  Sometimes I regret not doing more with my BA (a lot of my year became teachers or professional artists) but I have to remind myself I wrote my dark fantasy trilogy – Circle of Nine – based on symbols that evolved during my course.  David was in television production. I was at art school, working part-time cleaning hotel rooms. I rented a room in Paddington the size of a cupboard and shopped the local op shop where designer clothes were donated by affluent locals.
I'd just had a bad car accident a few months before these photos. Three operations and a pin and plate installed in my right arm. I'm left handed, fortunately. David is holding my sling in one of the photos.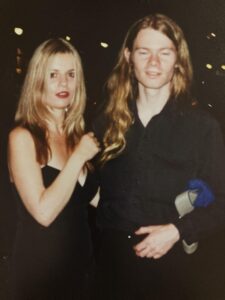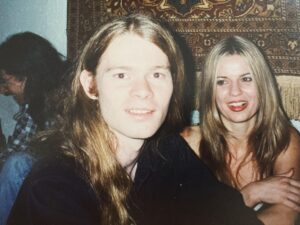 We're so baby faced. I'm so thin and blonde. I wanted to live in Paris or Byron Bay.  Life changes in an instant.  A red light.  A speeding car.