Sally Buck: 'You look real nice, lover boy, real nice. Make your old grandma proud. You're gonna be the best-looking cowboy in the whole parade.'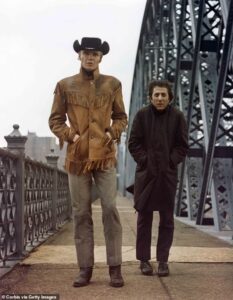 From the opening scenes with Jon Voight in his cowboy suit and Stetson leaving his small town to become a male prostitute in New York, Midnight Cowboy is simultaneously sad and beautiful. The atmospheric soundtrack, Harry Nilsson's Everybody's Talkin' transported me back to the '70's. Bob Dylan's Lay Lady Lay was considered at one time. The opening took me back to coach tours I did around Australia when younger and the disorientating feeling of being on coaches for days with different people coming and going.
Both Voight and the brilliant Dustin Hoffman are perfectly cast as Joe Buck, the Super stud cowboy and Dustin as Ratso – Enrico Salvatore Rizzo,  a cripple who lives like a rat in New York City and who yearns for a better life in Florida.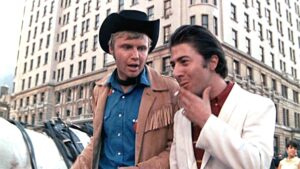 Dustin was fresh from The Graduate (another of my favourite films) and was nearly passed over as being too pretty and short for street-wise Ratso, but thankfully, Dustin won the part by meeting with director, John Schlesinger in a seedy New York bar to prove he could fit in and showed him a waiter working in a diner who was his image of what Ratso would look like if he had been successful. Dustin wasn't interested in being a film star, he wanted to portray real people and was willing to take risks with his creative choices.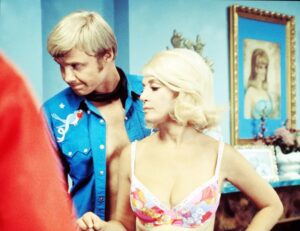 Voight is also excellent in his debut role as the damaged, naïve handsome, gum-chewing cowboy who wants to make his fortune by having sex with older New York women (although things don't run to plan and he eventually has to perform sexual favours for men). It's in the thankfully brief shocking montages that we understand the trauma in Joe's past that turned him into the Midnight Cowboy. He's painful to watch as he struggles to survive in the harsh world he once strutted so fearlessly into.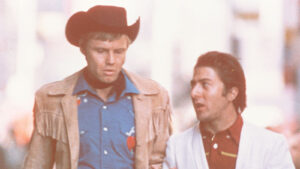 It's a film of male friendship, survival, loneliness, desperation, a strange love letter to New York city and the eccentric, flamboyant,  shadowy damaged inhabitants inhabiting her bars and streets. It's about poverty and people made homeless by development.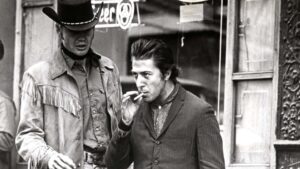 Midnight Cowboy came out in 1969 when America was at war with Vietnam and demonstrations were rife. The Manson family had just shocked Hollywood and the world with its sadistic murders. Neil Armstrong was the first man to walk on the moon watched by 650 million people around the world. The times were definitely changing.
It was adapted for screen by Waldo Salt (Truman Capote was one of the writers to turn it down.)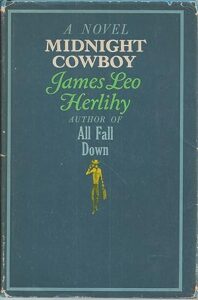 James Leo Herlihy wrote the 1965 novel.
The film won Oscars for Best Director, Best Picture, and Best Adapted Screenplay. It was the first X-rated movie to win an Oscar.  It  also won five BAFTA awards. Both Voight and Hoffman lost out on the Best Actor to John Wayne for his role in True Grit.