'Though a great deal is too strange to be believed, nothing is too strange to have happened.'
– Thomas Hardy
As I write this on a sunny day in Sydney with dappled light showering our inner-city street, cicadas competing with the traffic noise and overhead planes, gum trees a wash of green against a brilliant blue sky, Angelina Jolie has just finished directing a scene near our house for her new movie Unbroken.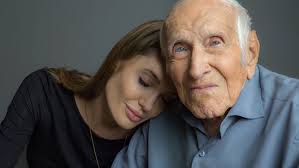 Regular readers will know my fascination with comparative religions. The reason I'm so excited that Hollywood has come to our area is that Angelina is directing a scene in my local church. This church is a big part of our family and has formed the fabric of our lives here for the last decade. My daughter was baptised there and before my father died, he flew over to give me away in my Alice in Wonderland meets Carnaby Street wedding.
In an area bursting with the politically correct/hipster crowd, the church has been a sanctuary to me for years. I've seen it go through many changes and several priests, but the current priest has been my favourite for many reasons. The reason I mention Angelina is that it's proof of how life can bring unexpected twists and miracles in ways you can't imagine. And how 'real life' can be stranger than fiction and any movie. For years we've battled with church costs (the roof fell in a few years ago) and in one swoop – thanks to Angelina – those costs have been considerably bumped down. But I could never have expected that's who would have fixed our church roof. Not even my imagination would have dreamt that scenario.
My daughter went to school yesterday morning with a little piece of paper in her pocket, for an autograph in the unlikely event she bumped into Angelina. She walked past crowds of extras dressed in period costume and the big movie lights trying to spot one person. (She loves her because she has tattoos.) We are relieved that this small brush of celebrity is with a person as inspiring as Angelina. It is heartening to point out photographs of Angelina and Brad dressed up for movie premieres, but then also be able to talk about her humanitarian work and how she has used celebrity and her beauty and talent as a force of good in the world. Everyone that had contact with her raved about how unpretentious, down-to-earth and friendly she was. I was also very delighted to see on the weekend in Sydney she went shopping with her children and bought books from local bookshops – a reminder to all to buy BOOKS this Christmas. As Christopher Marley said: 'When you give someone a book, you don't give him just paper, ink and glue. You give him the possibility of a whole new life.'
And so Angelina Jolie is our little Christmas miracle and if you see Unbroken, know that the church in it has been my oasis of quiet contemplation for the last decade of my inner-city life.
I have finished my edit of Currawong Manor.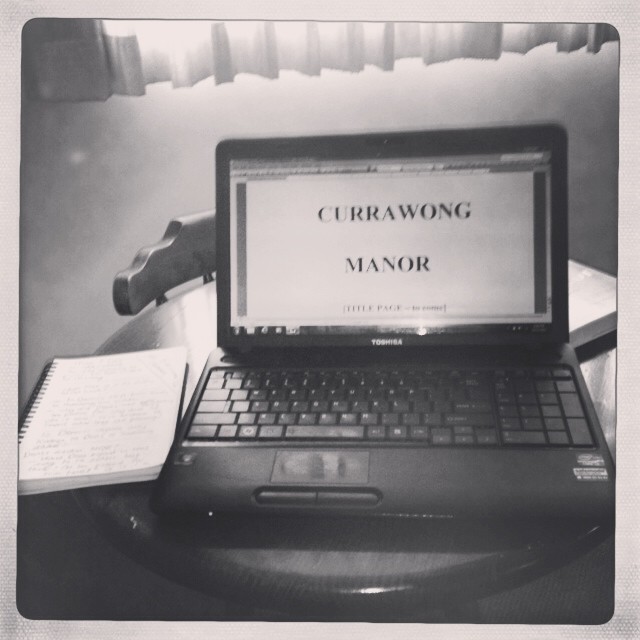 On Monday, 2nd December at 12.30 am I pressed the send button and Currawong Manor went across the city back to Pan Macmillan. I felt enormously depleted, emotional and empty. I've loved working with my artists for so long and it' s always hard to let go of my characters. I've spent years in their company. I feel so empty without them all and wonder if anyone will care for them. Where do these characters come from? They come. Sometimes quickly, but sometimes they are furtive and hide themselves behind other characters. Or they are too coy to appear at once, and you know they will come another time and book.
You spend years with the ones that do appear. You grow to know them more intimately than you do most of your neighbours, and friends.
And then they are gone. Released with the SEND button to a waiting editor and publisher in an office across the city and you are left alone, crying with exhaustion and wondering why you push yourself through so much for so many years to meet a being who is as real as a dream.
Divine madness has descended for years – if you are lucky – and then it moves on and you are left feeling abandoned by your own creation.
You sit and wait and hope the muse will bring you another story. You wait and ache and start to spin the web.
I've now begun work on my new web. and loving feeling the new characters appear.
Poet's Cottage continues its tour around Europe and here is the beautiful cover from Dutch publishers HERE Fingers crossed that the Dutch will enjoy my Tasmanian sea-fishing murder mystery. It never fails to excite me to think that our family holiday inspired a book that is now selling internationally.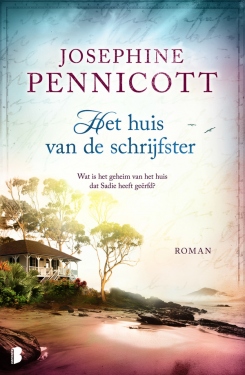 In November I appeared at the Newtown Festival for Better Read than Dead in the Writer's Tent with the always inspiring and dynamic Kate Forsyth.

I also attended the New South Wales SWITCH Library Awards dinner at the Star Room in Darling Harbour, sponsored by Bolinda Audio alongside some of my agent's authors. Here is a photo of writing friends Belinda Alexandra and Karen Davis.
I travelled to Melbourne for the Sisters in Crime annual Scarlet Stiletto Awards. I can't enter anymore as I've won two shoes (the legal limit!) so this was my first year as a judge. Congratulations to all shortlisted entries and to the winners. You can find a full list of winners HERE.

This evening was the 20th Anniversary of Sisters in Crime at the boho glam Thornbury Theatre and so I was delighted to be a part of the celebrations. Angela Savage wrote a lovely article on the history of the red shoe, A Dagger With A Difference, which you can read HERE.
The beautiful and talented Essie Davis was the host and guest speaker. You may know her as Phryne Fisher in Kerry Greenwood's Miss Fisher's Murder Mysteries, or from many other wonderful parts she has played. I remember Essie from our Hobart days at Rosny College together and so it was a joy to be able to connect with her again. In the photo below you can see her hugging me.
Essie was always a person you knew would be Someone. She claims she was a dag at Rosny but I can vouch she was always super-cool and super-talented. I was also pleased to have the chance to hand her a copy of Poet's Cottage as when Pearl Tatlow came to me, I often daydreamed over the years if Poet's Cottage was ever made into a movie, Essie would be perfect to play Pearl. Yes, I know that seems like big dreams, but if Angelina Jolie can pay for our church roof, I can believe in big dreams and miracles. And on that note – I wish for you all the big dreams, miracles and surprising twists in your life that you could NEVER have imagined in the season of light ahead.
And it wouldn't be a Christmas blog post on Tale Peddler without a gratuitous Johnny Depp photograph.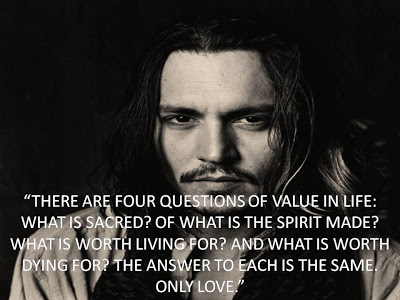 Thank you for visiting me. Here is the divine Mediaeval Baebes with the glorious We Three Kings.
Love, Light and Peace. May you find the best of the Holy Season within your own heart.
Josephine xx