Hello,
I have been quiet on the blog as I'm on deadline for my latest edit of Currawong Manor but wanted to pop in quickly and announce a giveaway on Tale Peddler.
As I'm so busy at the moment this giveaway will run for a month but I will remind folks weekly and it also gives you more chances to win.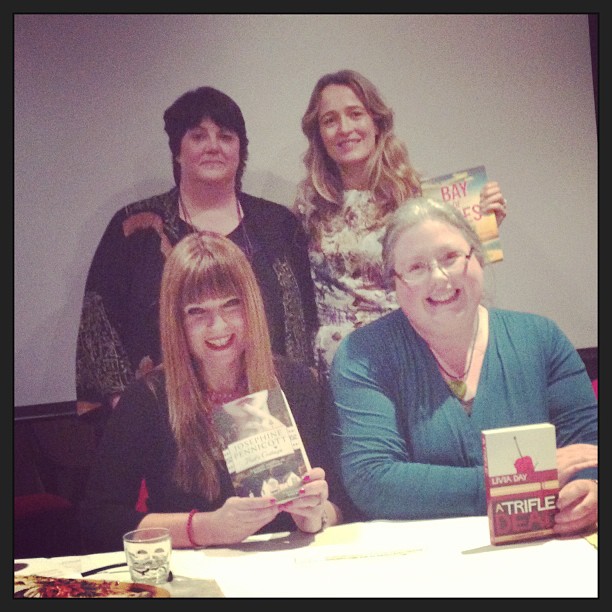 I've just returned from Melbourne where I was a guest for Sisters in Crime along with fellow Tasmanian writers Poppy Gee and Livia Day for a panel called Something Rotten in the Apple Isle. Lindy Cameron chaired the panel.
This was a fun night and it was so great to finally meet Poppy and Livia and to be reunited with the Sisters in Crime of Melbourne.
For the evening I read Poppy and Livia's books and they are both excellent although different in style and setting. All three books are set in Tasmania which is what inspired our panel . Livia's A Trifle Dead is set in urban and hip Hobart and is a really funny and gripping read. And Poppy's book is set on the stunningly beautiful East Coast of Tasmania and describes the ripple effect amongst a small community when the body of a dead girl is washed ashore.
We discussed Tasmania as Muse, our own childhoods in Tasmania, some well-known murder cases in Tasmania and how our books were inspired by the landscape. We also touched on motherhood and writing and how difficult it can be to produce work when you also want to be there for your children. Thank you to the audience who braved a chill winter's evening to hear us speak and also to Sisters in Crime for inviting me to be part of the event. I have shared a few photographs taken at the night on my Instagram. There are two Sisters in Crime in particular the beautiful Leigh Redhead and Amanda Wrangles who always seem to bring out my inner trout pout. Amanda Wrangles is the talented artist behind the beautiful cards in the photo. They are not included in the giveaway but I couldn't resist showing them off.
But – back to the giveaway. I'm sure you have guessed it by now…
One person will win a signed copy of our three books and so a complete set of Something Rotten in the Apple Isle books. This competition is open world wide and so if you're overseas and have been longing for a print version of one of our books you now have a chance to win ALL THREE. It makes a unique and lovely gift for the crime and mystery reader in your life.
And it's super easy to enter! To be eligible to win – either do one of the following:
leave a comment below this post to let me know you would like to be placed in my Magic Sorting Hat
or
leave a comment on my personal or Author Facebook page
or
leave a comment on my Twitter message regarding the giveaway
or
leave a comment on my Good Reads giveaway. (As soon as I figure out how to work a Good Reads giveaway.)
AND if you SHARE the competition on your social networking sites and let me know you have shared, you get an extra chance!
AND every week when I remind if you SHARE AGAIN you get an extra chance in my Magic Sorting Hat.
I have loads of things I want to blog about including my impressions of the Sydney Writers' Festival but for now back to the edit.
Thank you for visiting me,
Love Josephine xx