When I stop flying in the sky I shall write a proper report on the night it's been thirteen years of me entering the Scarlet Stiletto. Now that I've won the two shoes I am no longer eligible. It's an end of an era for Tale Peddler. But I am incredibly honoured to be one of the five women in Australia who have won two shoes. In 2001 I won for Birthing The Demons and on Friday night I won for Shadows, a short story inspired when my daughter ran off from a park and decided to walk home by herself.
Thank you for visiting me. There's a lot I'd love to blog about – so much to share – but I'm right into the world of Currawong Manor at the moment. This book is intense to say the least. I don't want to lose the beat and heart of it too much by spending time away from it.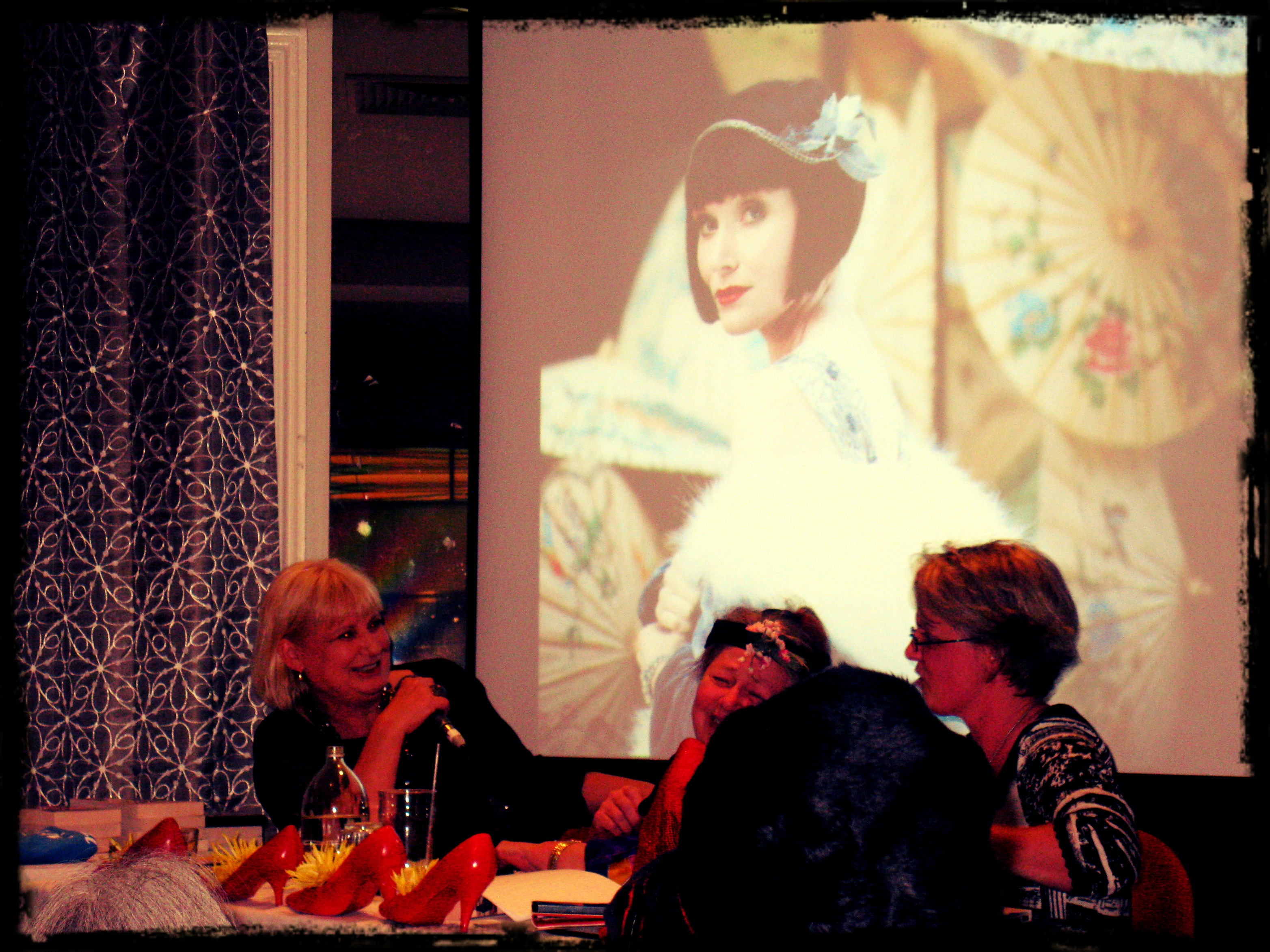 Deadline is now the end of December. I have my characters and my crumbling world of Currawong Manor for a short time yet.
I love this book so much that it hurts. I am happy to report my husband also loves it and hopefully other readers will as well. It's been the hardest book I've ever written but it's bones have emerged in exactly the way I always envisaged it.
Thanks again to all the Sisters in Crime and to Kerry Greenwood for her kind words to me. I really needed to hear what she had to say to me. I love Kerry and she's been such a big inspiration to me over the years for her wonderful books set in Australia and for her style. In my opinion, she's got even more style than her sassy creation, Phryne Fisher.
She is a survivor and it's writers like Kerry who keep me going. The talk and powerpoint presentation by Kerry and costume designer Marion Boyce was fascinating and the outfits drew many gasps from the audience. I could have listened to them both all night.
Phyllis, Mandy, Lindy, Carmel, Liz and all the other Sisters of Crime, I love you all.
You can read the official press release HERE from Sisters in Crime and see the full list of winners. Congratulations again to all fellow Sisters in Crime who picked up awards this year. If you didn't make the short list then submit next year!
Thanks to HARPERCOLLINS for their continued support of this award.