One of the surreal moments of  writing is just as you submerge yourself into the world of your present project and you're flipping between states of exhilaration and despair – you're suddenly having to do publicity for your previous book.   I enjoyed two author events in Newtown in June, presented by my local bookstore Better Read than Dead.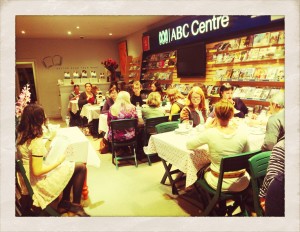 First a glamorous High Tea which which I was gratified to have sell out very quickly.  Thank you to all who bought tickets.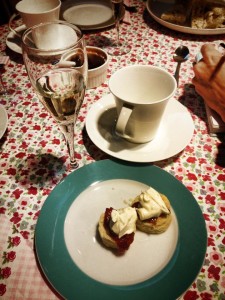 I was  interviewed by Mischa from BRTD and it was a joyful moment to see so many faces from this local area that I've connected with over the years. When you don't have family living near, these connections become so valued.  Parents and teachers from Daisy's baby years – to friends I've remained steadfast through all of life's changes: also many unfamiliar faces, who came to discuss books and creativity. It was a delight to have such an enthusiastic, interactive audience.
     The following Tuesday night I spoke at Newtown Library with my favourite librarian and book club member, Gayle Donaldson, about the influences and stories behind Currawong Manor.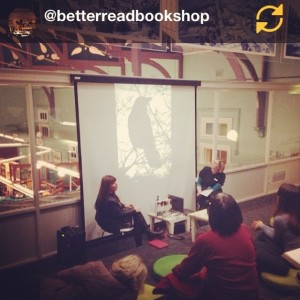 Thank you to everyone who braved the winter chill to watch my slide show and have a peep at my working notebook. I'm planning a future post on my notebooks. And thank you to Better Read than Dead for the image via their Instagram feed above.
     Better Read than Dead provides a valuable link in the inner-city with its focus on building ties in the community between authors and books. I consider myself fortunate to live in an area where a bookstore is such a buzzy place. If you live in the inner west – check out what's happening from their website; attend some events or join one of their book clubs. I was inspired by a friend who came to my High Tea solo; saying if she had brought a friend, she'd clutch onto her and not mingle. It's a good practise to take yourself out of your comfortable zone and make new connections: it's  stimulating and keeps you young.
      If you would like a signed copy of either of my mystery novels Poet's Cottage or Currawong Manor, if you contact Better Read than Dead HERE, I'm happy to pop into the store and sign a copy for you which they could post out. If you already have bought books, if you contact me through my website or Facebook Author Page, I'm happy to send you signed bookplates.
     When you are writing, imaginary people become so close that sometimes you forget you do need to mingle in the 'real' world with 3D people. It's been a pleasure to connect and be inspired by community.
     And I was totally exhilarated to see that as a result of my events, Currawong Manor shared the No 1 spot that week with the Legend Herself in Better Read than Dead – so many thanks to all who supported my book.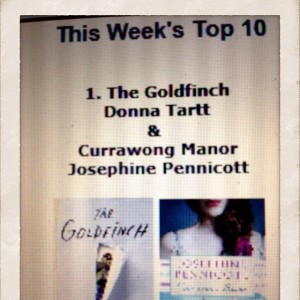 Don't forget to check back to see the results of my Giveaway.
     Keep yourself creative.  In Love and Light,  Josephine