After she suffered a serious stroke in January, the news wasn't unexpected, but I still felt upset reading about the death of one of my favourite writers late Saturday night. Ruth's many books have not only provided inspiration, but also comfort in my life at different stages. Whether enjoying holidays accompanied by one of her novels, or nervously awaiting diagnoses in doctor's waiting rooms, attempting to blank out the outside world, I've always been able to lose myself in Ruth Rendell's dark, twisted and haunting novels.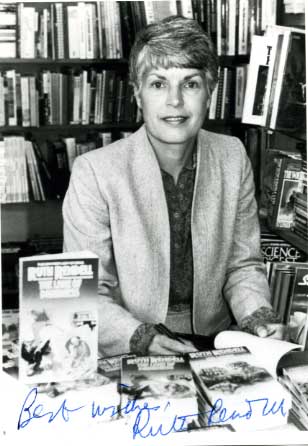 I came to her Wexford series late, believing I preferred her standalone Rendell crimes, or her darker psychological novels published under her pseudonym, Barbara Vine, which explored the shadows cast by the past. But like so many, I grew to love Wexford books and began hunting them down. Wexford, she said, was a reflection of her and embodied everything she wanted the police to be. The Wexfords, the Rendell gritty stand-alone crimes, the Vines – I love them all.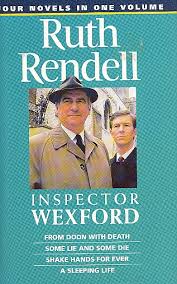 She didn't do a lot of research for her police procedural novels, claiming in interviews that Freud and Proust gave her all the insights into human nature she needed. In an interview with Anthony Clare in 1994, for Radio 4's In the Psychiatrist's Chair, she spoke of her love of secrets and curious nature and how she would have thought she was the last person people should ever confide their secrets to, but often they did. She said she was an outsider and she had an ability to get inside the heads of other loners – especially psychopaths.
The old detective story that's got a really complicated tortuous motive doesn't apply to mine. It's that people do these things almost by accident, or because of anger, their rage, their madness – and then probably regret it. Ruth Rendell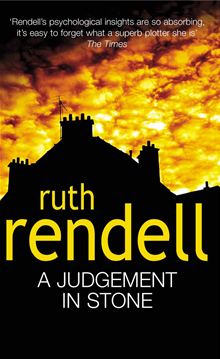 She was never one to shy away from social issues and could make you understand exactly how somebody could end up committing the most heinous crime.  One of my favourite novels was A Judgement in Stone (1977), where she cleverly gave out the identity of the killer, motive and the victims in the opening sentence and then somehow made you walk in the murder's shoes with her keen insight into human nature so you felt sympathy for all in equal measure. This novel – the French film adaptation, La Ceremonie (1995) – has really lingered with me over the years.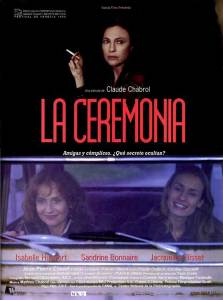 It's amazing technical skill and confidence to give away so much in your opening sentence and still create a pageturner of such depth.
"Eunice Parchman killed the Coverdale family because she could not read or write."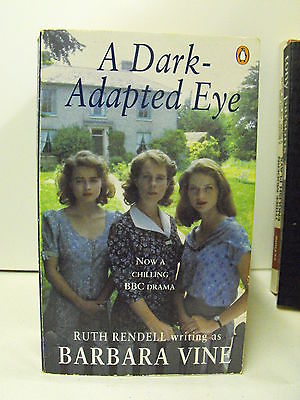 One of my favourite Vines is her debut, A Dark Adapted Eye, which relates the story of snobbish Vera Hillyard, hanged for killing her sister. It's set in a small English village where it is suspected that a child had been deliberately killed in the past, with flashback scenes set in World War II when Faith Severn relates her memories of her aunt, Vera to a true-crime writer. The novel is deftly structured with its complex unravelling of the past and the secrets the characters have held onto.     
"Murder reaches out through a family, stamping transfers of the Mark of Cain on a dozen foreheads," Ruth Rendell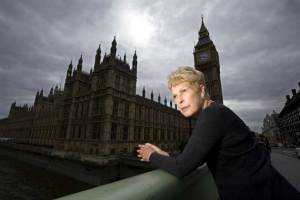 Ruth was also a public campaigner against domestic violence, racial prejudice, female genital mutilation. She was a Labour peer in the House of Lords, her official title being Baroness Rendell of Babergh and she cared about humanitarian issues, donating generously to charities. She enjoyed her wealth, aided no doubt by her memories of her own experience of struggle-street in her younger days, and was determined to give back to society. In her early writing career she lived with her husband Don in small, grim houses – when they weren't having to live with Ruth's parents. This period helped her writing later as she knew first-hand how difficult it was to live in hard circumstances. One of her hobbies she could afford to indulge in her later years was moving: she moved house frequently: eighteen times, into one London home after another, investigating different neighbourhoods. She loved walking around London for exercise, and to gain research ideas from the streets, indulging her curious nature and aiding her creative process.
Up to her death, Ruth remained in person as elegant as her prose. She was an avid exerciser and interviewers often commented on her slim body and attractive appearance. She was a vegetarian. Her days were spent in an idyllic sounding routine of writing, exercise and several times a week attending The House of Lords and the Opera.
"Murder itself is not interesting. It is the impetus to murder, the passions and terrors which bring it to pass and the varieties of feeling surrounding the act that make of a sordid or revolting event compulsive fascination." Ruth Rendell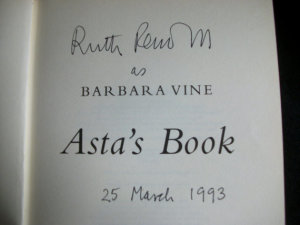 Prolific in her output, her books met worldwide sales of over 60 million and with many books adapted for the screen. She was a multi-award winning author and was often hailed by her writer peers for her talent and skill.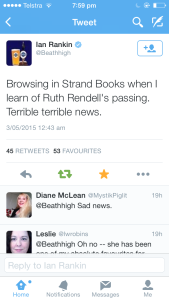 "Nobody can equal Ruth Rendell's range or accomplishment; no one has earned more respect from her fellow practitioners" Val McDermid
"Consistently better work than most Booker writers put together. "  Ian Rankin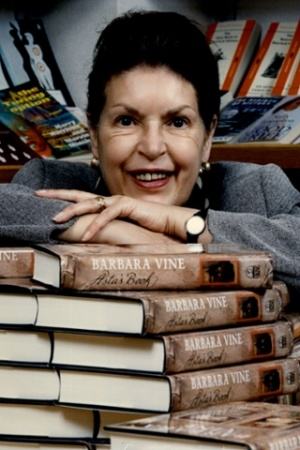 Originally Ruth trained as a journalist but resigned hastily (to avoid being sacked) after she wrote about a tennis club meeting, pretending she had been there but failing to mention the slightly important fact that the speaker dropped dead halfway through his talk. Becoming a mother of her only child, Simon, (Ruth was also an only child) she wrote six novels – all of which were rejected. There wasn't a lot of interest when her first published novel, From Doon with Death (1964), introduced the likeable Inspector Wexford. Her following two novels were also very low key, until the US market showed interest.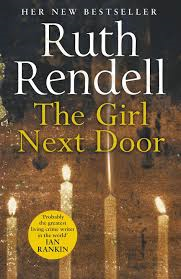 In today's publishing climate, she may well never have been able to continue after her first Wexford, and we would have been the poorer for not benefitting from her more mature work of her later books, such as as The Girl Next Door (2014 ), which shows the effects on a group of elderly people when the remains of severed hands are found in a biscuit tin in an old tunnel where they used to play as children in the 1940s. I found this work by a writer in her eighties both melancholy and darkly beautiful.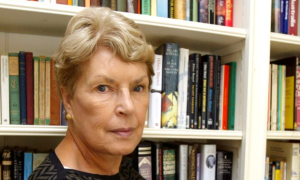 My condolences to all who knew her personally.  I hope they find it of some consolation that Ruth may have left us physically, but her books will always be there for future generations to discover. Her 66th novel, Dark Corners, is to be published in November. I feel terribly sad that there will be no more new Ruth Rendell's for me to devour.  Vale, Ruth Rendell.
I think about death every day – what it would be like, why it would happen to me.  It would be humiliating to be afraid. Ruth Rendell