Hello,
I was contacted on my Facebook by the 'real-life' gardener of Stanley who broke the sad news to me that Marguerite Eldridge (Meg) died in Tasmania last week. Her funeral service was today.
Readers of Poet's Cottage will know that this creative, gentle lady formed one of the early inspirations for my character of Birdie Pinkerton (although I should point out, so as not to sully Marguerite's reputation in any way, that Birdie rapidly took off into her own character).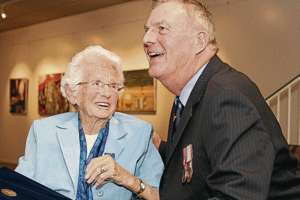 It was Meg's husband Lin who first told me the name of the cottage – once his cottage – that I felt so drawn to, which gave me the title for my book. He was kind enough to invite me to their home overlooking the sea, where I met Marguerite.
Although my time with this inspiring lady was very brief, I felt a strong bond with her which was intensified through reading her truly delightful self-published books on her life in the postcard pretty sea-fishing village. Memoirs such as Marguerite's are invaluable because from the accounts of 'ordinary' people you get a true rhythm and beat of a time and place. Her books were a great help in adding colour to my novel Poet's Cottage.
Marguerite was kind enough to write me several much treasured cards and notes. When I last saw her she still had her twinkle, and her pretty face was as youthful as ever, but she did confide to me that she hoped she would still be alive the next time I visited Stanley.
I think this lovely spirit, who never saw the need to leave the great beauty of Stanley, would be surprised if she knew how much she had meant to me. It does give me some small joy to know that through my own novel, Poet's Cottage, Marguerite's books live on as well.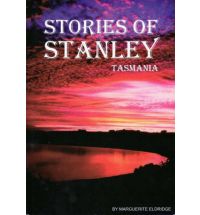 Marguerite's book, Stories Of Stanley Tasmania, is definitely worth hunting down and reading if, like me, you love stories of daily life in small communities. Marguerite was honoured with a Medal of the Order of Australia in 2011 for her Artistic services to Stanley.
My most sincere condolence's to Marguerite's partner, Lin, and her family and friends.