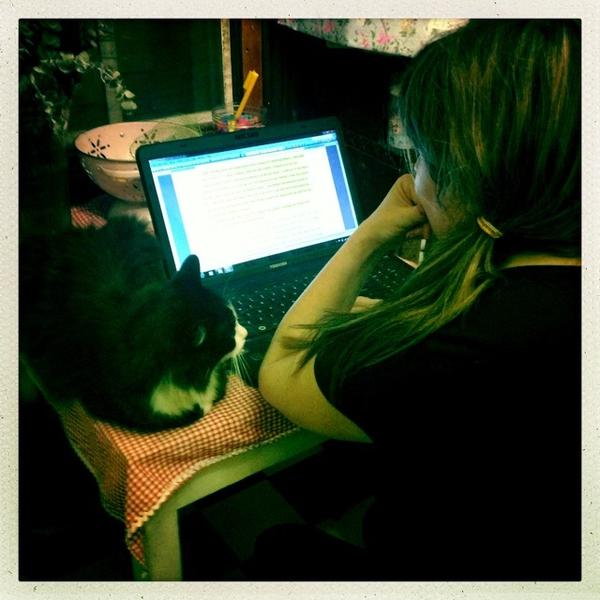 David shot this candid on his way to bed last night. I was sitting at this table until 3am finishing Currawong Manor in time for its deadline today.
It's the shortest space of time I've ever written a book, it took on its own life and is double the size of Poet's Cottage. Some days I can make myself write to a word count. If I know I have a 5000 word limit I put that figure in my head, I seem to naturally break just before I hit it. Currawong Manor however, lured me along its strange, twisty and winding corridors to a far bigger book than I had envisaged when I began.
David who has read, made corrections and suggestions for me says its the best book I've ever written (If he had said anything else I wouldn't record it here of course).
I do like this photograph as to me it reveals the reality of the everyday life of a writer. The screen's illumination, the characters, the isolation when creating (apart from a friendly cat friend who is willing to purr away the long hours by your side). It's not glamorous but it's intense, challenging, deflating and amazing all at once.
And so the story is told. The characters have blessed me with their insights, their deceptions, their dreams and their stories yet again. Now the book goes to Selwa Anthony, my agent and then onto the publishers. Eventually it will make its way to the public.
But for this moment in the early quiet hours of my small home, it's just the story, the cat and me. I do find it hard to say goodbye to the characters at times.
I am flying to Tasmania to spend a few days with my family in yet another Tasmanian sea-fishing village. I will be seeing Neil Gaiman talk down there which I'm looking forward to. We will have a bottle of champagne by the Tasmanian sea to celebrate the book's conclusion on this stage of its creation.
I have my notebook packed as already the next book (which has been waiting patiently its turn for years) is eager to come through. I'm really looking forward to this one.
Thanks for visiting me and keep creative. xx