Just back from a rushed trip to Tasmania to see my family.
Hobart as magical as always. Snow capped Mount Wellington and rainbows shimmered over the city for days.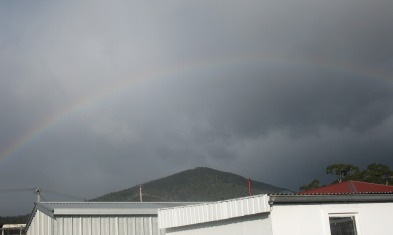 I did nothing except watch Daisy's excitement to be with her young cousin as she explored the delights of a 'real' backyard with a (gasp) trampoline.
At night ferocious winds gusted over my sister's house – the trampoline was blown over the neighbour's fence with the winds recently.
I knitted and read yet another Miss Marple.
Since our return we have been relaxing on our holiday break. We are a family who enjoy nothing better than to potter, sleep in, an excursion to a cafe, read and play at home. My daughter found this mermaid on the beach at Manly.
But Hobart
, city of rainbows and snow. It is always a wrench to leave her.