Even a confirmed Winter lover as myself has to admit I'm enjoying the Spring weather and light in Sydney at the moment. Here is where I am every day in my writing shed.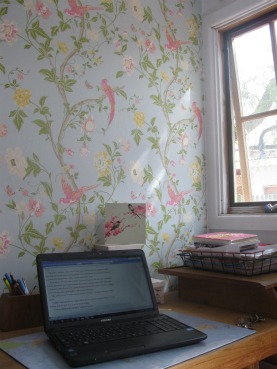 Yes, we finally have the wall paper up and I love being in there amongst the birds and butterflies. It's just lovely to work in the garden next to our big old tea-tree and palms and feel as though I'm amongst pink birds and butterflies. Birds and butterflies represent the soul to me and so it's a great paper for a creative writing shed where we do our soul work. Just this morning, the most beautiful bird with a yellow breast came right to the window to peep at me. It's magical in my shed! 
Over the next month or so we shall be doing more work on the shed to try to create a lovely as space as possible for both our books. My husband is also a writer and so we have to share which we're good at. Luckily, he is used to my girliness and has long given up fighting I think he was just relieved the paper is duck-egg blue and not pink!  I'm looking forward to installing the fairy lights, adding some pretties and growing some roses out the front but first of all I have to cull all the paperwork we've collected over the years between us! And at the moment, I'm head down on my copyedit for Pan Macmillan and so things may be quiet on the blog for a couple of week to ensure I reach my deadline in time. All my editors from Pan Macmillan have been so brilliant and it's a joy to work with them. Because I was nearly 60 000 words into my Currawong book it was a wrench to return to Poet's Cottage again but I'm loving revisiting the characters and hopefully adding a bit more to the MS as this is one of the last chances I get before publication.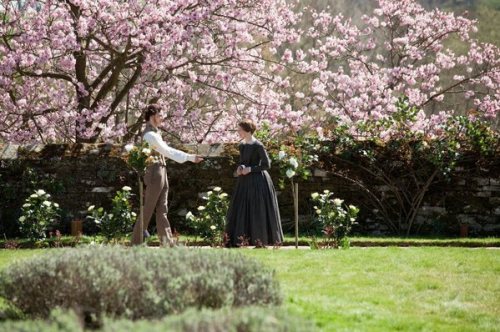 And I've been so busy lately doing loads of arty things. We saw the Pre-Raphaelite exhibition on drawing at the AGNSW which I loved. Both David and myself have a big soft for the PRB and it was a treat to see a few of Elizabeth Siddal's works in this show.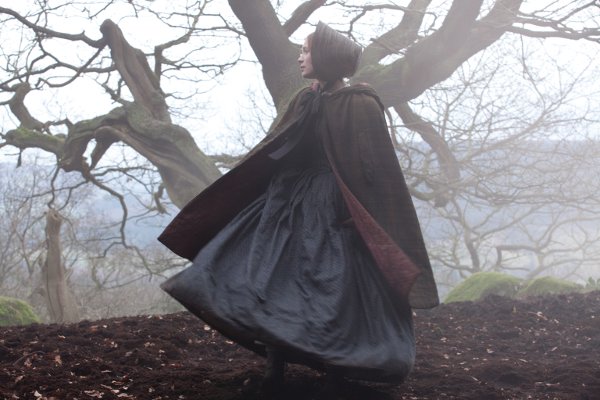 I saw Jane Eyre at the cinema with my friend Artschool Annie. How brilliant was Mia Wasikowska as Jane? Divine casting and I loved this movie version so much I'm going to try to see it twice.
The Tasmanian-looking landscape really made me long for my home state, Thornfield, is my idea of the perfect house and unlike my pervious post on Underbelly Razor, this is a house that actually looks lived in and of the time.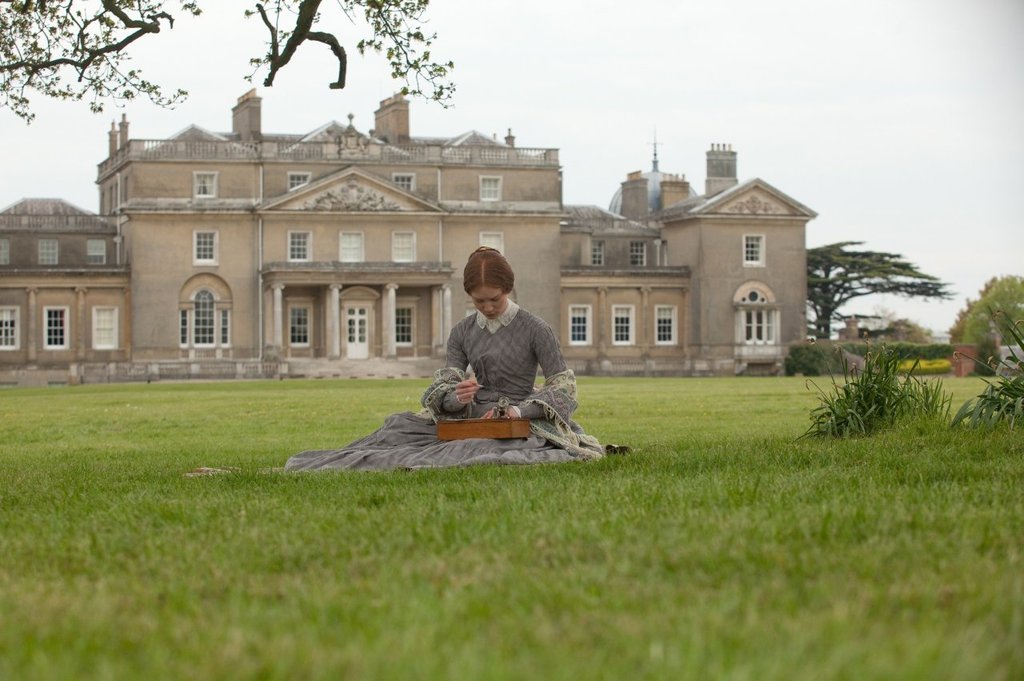 I also really enjoyed.Michael Fassbender as Rochester. A really sublime movie.  I think Jane Eyre is such an inspiration for her nobleness, stoic determination and strength.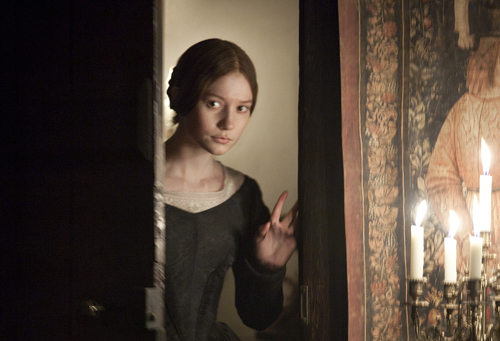 I hope my daughter loves this book as much as her parents as I think Jane's a great role-model for young women in today's climate with the sexualisation of females. Jane doesn't use her looks to get ahead in life. And Rochester still prefers her to the prettier Blanche Ingram. It's a tale of hope and as Spring is a season of hope it's a perfect time to catch this movie.
I also saw Lakme at the Sydney Opera house with the amazing Emma Mathews. This opera was a treat with the divine Emma singing the Duet of the Flowers.
And David and I saw The Mousetrap at this incredible theatre, The Genesian in the heart of Sydney. We originally saw The Mousetrap in the West End in London which was a dream come true for me. But even though this was an amateur production, it was really enjoyable and well done.
This weekend, I have my agent, Selwa Anthony's annual bash which is always a very grand and inspiring affair. During the day there are author and publishing  talks and at night a formal dinner and award ceremony.  We are looking forward to attending the Sassies and hopefully, I'll have time to pop back and do a post about it when I reach my deadline.
Enjoy September and I hope that butterflies and pink birds are fluttering in your soul. Keep Inspired and Keep creative.
And because it's Spring. Here's a couple of images from the latest issue of Country Style.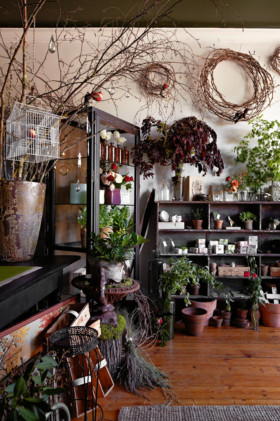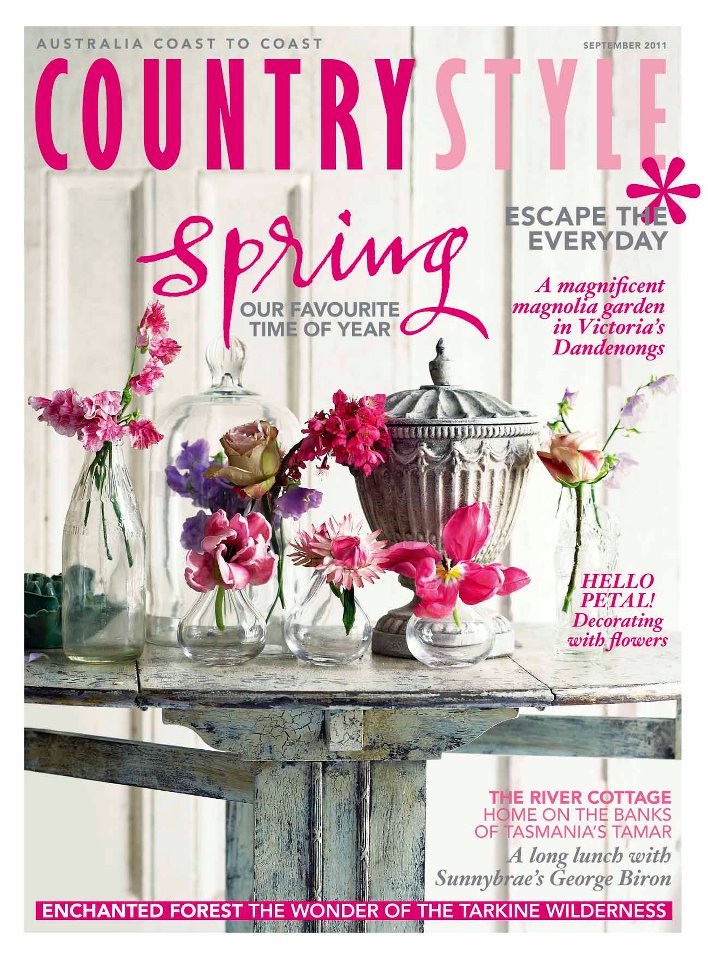 I always love their Spring Issues.