On the 14th February in the year 1900, a group of schoolgirls set out for their annual Valentine's Day Picnic. Some were never to return…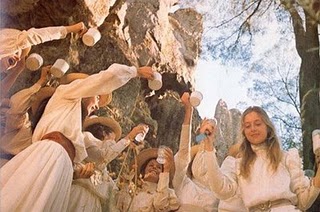 What was the secret of Hanging Rock?
Every Valentine's Day I'm reminded of my favourite Australian movie, Picnic At Hanging Rock, which is based on the book of the same name by Joan Lindsay.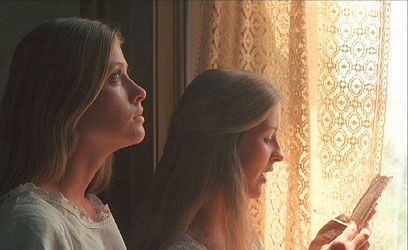 When I first saw this haunting, eerie movie in the 70s, I was terrified. After many repeat viewings, it still creeps me out. I'll do a longer post about this one day as it's such a fascinating film and I also love Elvira Madigan which Picnic was heavily influenced by. 
Picnic At Hanging Rock is my bookclub (Magic Hat Bookclub) pick this month. Joan Lindsay is a fascinating character and so I'm looking forward to this discussion.
[youtube=http://www.youtube.com/watch?v=08e9QqQP7sY]
But the Peter Weir movie will be forever associated in my mind with the 14th February. On this day every year, I see white dresses, corsets, elaborate cards, birds soaring in a brilliant blue sky, parasols, the menacing rock and the enigmatic Miranda.
A little bit of Rock trivia: Joan Lindsay married her husband on St Valentine's Day. The day always had a special significance for her which is why she set her novel on the 14th February.
Enjoy the day and night dedicated to love.