A FIRE IN THE SHELL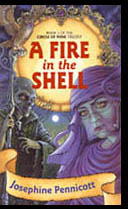 Imagine if your darkest dreams had the power to kill…
First came the flies and bees. Then the wild dog attacks in the Blue Mountains and sightings by locals of terrifying beings. The wail of the Banshee is heard. Erinyes, Pan and the Wild Hunt are on the move.
The old ones demand blood…the killings begin.
In Circle of Nine a coven of witches unleashed chaos by opening a portal to Eronth, a parallel world where magic, prophecy and ancient myths are real. Now the coven return to close the portal. But dark forces are working against them. Is one of their own betraying them?
Eronth is on the edge of ruin. Its cunning folk have been decimated by witchhunts and are beset by invaders. Behind all this chaos lies the Eom crystal, ever growing in power and now with an offspring of equal evil.
The faith and strength of Khartyn, Gwyndion, Maya and others are pushed to the limit as they face the horrific culmination of deadly energies. Not all of them will prove equal to the challenge. Heroes will fall by the wayside. One of them will perform the ultimate sacrifice. The final unexpected twist will make you gasp!
Book 3 of Circle of Nine trilogy, published by Simon & Schuster)