A collection of 14 original stories from Australian writers to make you wonder if Christmas really is something to look forward to.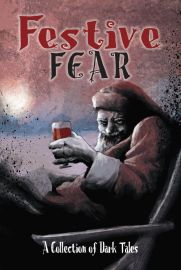 "…the protagonist of Josephine Pennicott's Mr. Gallows' Christmas Gift drags the reader into a terrifyingly credible situation, made worse by the lack of explanation" – Chuck McKenzie
"…a no-holds-barred horror anthology on a Christmas theme. There is much strong meat here, and I've got to say I loved it-reminded me a lot of the great Pan Books of Horror series… stand out stories for me were the gloriously nasty Mr Gallows' Christmas Gift by Josephine Pennicott and the…" – James Doig
"… shouldn't all good deeds be properly rewarded then? Josephine Pennicott's Mr Gallows' Christmas Gift seems to think otherwise and illustrates that if a good deed turns out to be its own and only reward, perhaps you have gotten off lightly and should be thankful. Karma doesn't always get it right." – Damien Smith
Published December 2009 by Tasmaniac Publications with a release date of December 5, 2009.