As I write this, Australia is on fire. My family had to evacuate from our Blackheath, Blue Mountains home just before Christmas.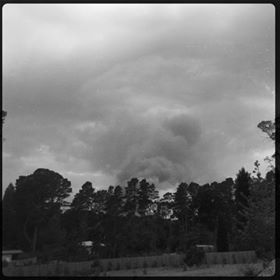 In a long string of unfortunate events, we were left without a working car and it was safer for us to leave with the great fire they call The Monster having entered the Grose Valley frighteningly close to our house.
The Fire Captain at the local station said at an information evening we attended that he's never seen a fire like this in his decades of fighting fires. The size of two trees combined, it crowns in places and it doesn't obey the 'normal' rules of any fire. A fire christened The Monster by locals.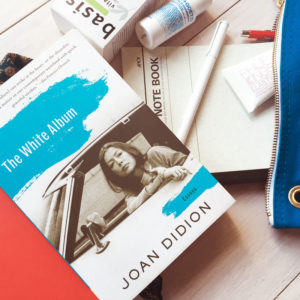 Like countless others we were packed and prepared to go for days. When you live in bushfire country you prepare early with a suitcase by the door. My daughter's clothes took up half the suitcase. My own packing (somewhat less glamorous than Joan Didion's famed packing list):
Tarot Cards,
Reiki Symbols
A notebook, pens
Books – The Clockmaker's Daughter by Kate Morton (review to come), The Year of Magical Thinking by Joan Didion, Initiated by Amanda Yates Garcia
Photographs of baby Daisy
Ancestor photos
My mother's wedding ring
Family documents such as Daisy's medical folders, passports
Daisy's diabetic equipment and medication
Sunhat
Cosmetics
Toiletries
Bach Flower Essences
Change of clothes for a couple of days
Hanako mist spray
Letters my father wrote to me before he died
The dog's supplies and lead
The dog carrier
A lock of my father's hair cut from his head when he died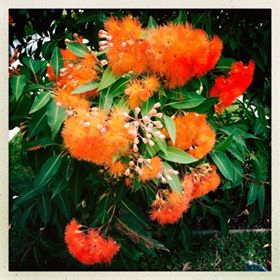 Christmas plans had to be abandoned. We became addicted checkers of the Fires Near Me app and worried over elderly neighbours and our home.
We felt heartbroken for those who lost their homes. We wept over images of children whose heroic firefighting fathers had died.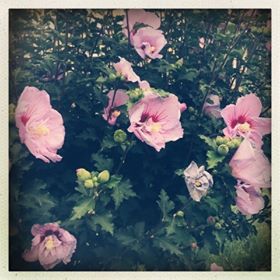 We are enraged by a Prime Minister who chose to holiday in Hawaii with his family, and only returned because of public pressure. Then he partied on New Year's Eve with fireworks in polluted Sydney skies and hosted a garden party with cricketers as people died and Australia was ablaze. The Emergency Minister, David Elliot, also shockingly chose his family holiday during this time of severe crisis. I've avoided ever posting anything political before but their actions went beyond political. This country will not forget easily the betrayal of the climate-change denying Liberal Party.
Heartbreakingly, our already fragile Koala population was decimated at the time of writing by thirty per cent. And a HORRENDOUS over a BILLION animals killed. 28 people have died. Over 2000 houses destroyed. An area four times the size of the Amazon Rainforest burnt.
The heavy plume of smoke choking Sydney for weeks caused record spikes in hospital admissions. When I travelled down to Sydney with my daughter, I was shocked by how polluted the air was. Sydneysiders in facemasks. An oppressive feeling in city streets. It felt as if I'd entered a science fiction novel, so terribly wrong and tilted.
Near where we were staying, the beach was packed with thankfully no smoke in the air. We walked the beach twice daily, feeling like aliens in this culture of bronzed people on jet-skis.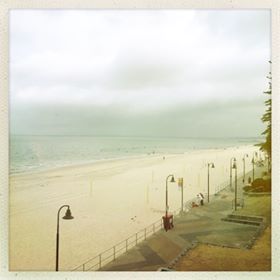 Women in hijabs ran on beaches with their small children. Palm trees waved their fronds against an unnatural salmon-coloured sky. We collected bag after bag of plastic and rubbish, hoping it would inspire others to do the same.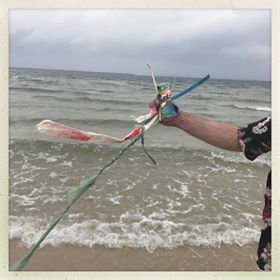 At night I listened to hoons in their cars. I constantly checked the Fires Near Me app before falling into a restless sleep. I would wake at 3am and check the app again to see if the flames had reached our street.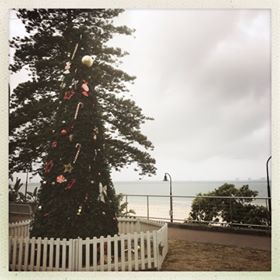 It was not the Christmas we had planned but we had a roof over our heads and a beach a short walk away.
I followed images of exhausted RFS service people. Blackened faces, their endurance stretched to the limit. Unforgettable images of wild koalas allowing Firies to give them water. A devastated farmer forced to shoot his scorched stock. A kangaroo found in a swimming pool, desperate for water. A Firie describing koalas screaming as their trees burned. Friends on social media begged for people not to share images of burnt koalas but I couldn't let those last screams go unheard. I couldn't look away.
The Firies, who sacrificed employment to fight fires unpaid. Several lost their own home while they fought to save a stranger's. Some even had to take out loans to cover their mortgages. I marvelled over the goodness and the valiant nobility of these warriors who face fires bigger than two tall trees.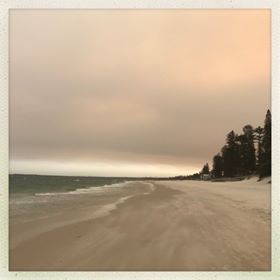 Australia feels tilted, shaking. White ash blazing us into a scorching and volatile dead world. It feels as if a doorway has closed.