You are as powerful and strong as you allow yourself to be.' Robyn Davidson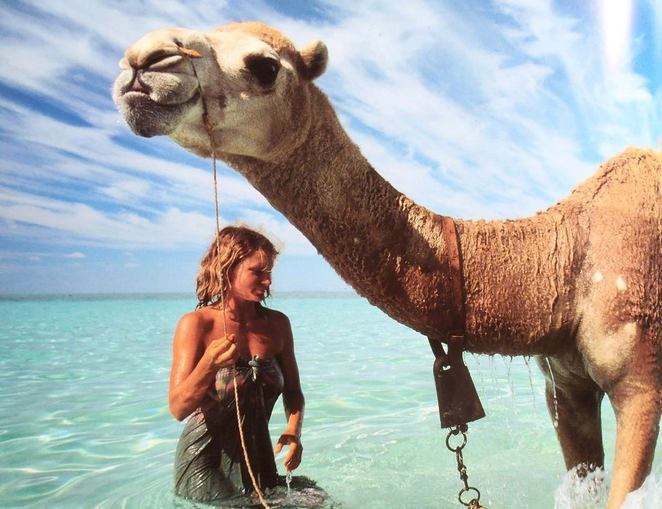 Sometimes I play that game where I'm asked the five books that changed my life. Although my choices might change (and really every book has left a small thumbprint on my soul) one work did have an influence on my life when I first read it as a young girl in Tasmania – Robyn Davidson's Tracks. The descriptions of the Australian outback were so powerful and beautiful. I'd never thought of my own country in quite the same way.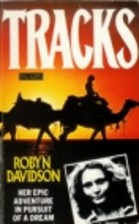 I felt fearful of so many things and it was perfectly obvious that here was some sort of Athena warrior goddess who feared very little, a young woman who in 1977 trekked 1700 miles across the desert from Alice Springs to Western Australia. Of course there are all sorts of symbolic meanings attached to entering a vast, seemingly empty wilderness. The old prophets entered them for clarification and transcendence. Jesus went to fast in a desert. A desert cuts out all the sensory overload. The vastness of the landscape encourages meditation.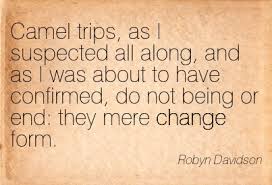 But it wasn't just Robyn's ballsy guts/madness in choosing to enter the desert with only her camels, her dog, the intermittent visits of National Geographic photographer Rick Smolan and the indigenous Australians she met along her way. It was the authentic raw power of her writing that inspired me.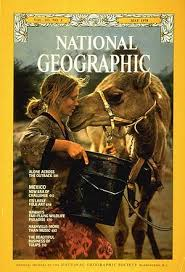 I was fortunate to see Robyn Davidson speak at the Sydney Writers' Festival last year on a panel interviewed by Michaela Kalowski with Emile Sherman, the producer of the movie Tracks. Actress Mia Wasikowska, who plays Robyn in the movie, was also in the audience. I intended to write this post shortly after the festival I was so inspired and fired up by the three speakers I saw that year, but I was editing my own book at the time and the deadline was forever looming.
I've been thinking again about Robyn Davidson as the movie Tracks is shortly to hit the big screen. Robyn in person, decades after I read her book is every bit as striking as her younger self in the flesh. Elegant, warm and charming,she described herself as an 'odd-ball'. And I sensed a kindred spirit when she spoke about how she hated being too connected and never carries her mobile phone and hates answering it. It's always a relief to find someone as odd-ball as yourself. She talked about how she had offers before for Tracks to be made into a move, but she wanted it to be an Australian film. Could I love this woman any more? She spoke about how the journey she took would be impossible these days as social media would be covering every step. She also expressed her concerns for young people these days as the pressure from social media is so intense. And related a very touching story to do with a reunion with her camels in Western Australia many years later. I had no idea that camels were so intelligent, emotional and had memories like elephants.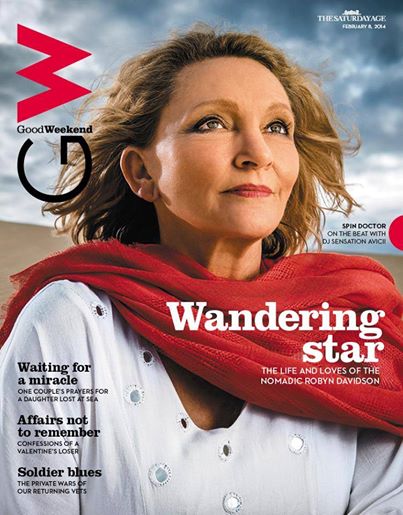 Robyn Davidson's early life is gothic involving her mother's suicide at 46. Robyn is currently writing a memoir about this period of her life. In a recent interview in the Sydney Morning Herald Good Weekend magazine with journalist Amanda Hooton, she spoke about her mother's death and her struggles over writing the period of her life to avoid the 'poor pitiful me' tone.
'I now think of her as something incorporated into me. I'm very interested in neuroscience: the idea that we have these maps in the brain. I think she's sort of mapped into me.'
Tracks is a book I would urge every mother to buy their young daughters (or sons) to read as it will hopefully give them a warrior shield in navigating their own desert. It is certainly one I will be encouraging my daughter to read. One aspect of Robyn's desert trek I loved was that she didn't do it for fame, or to become some sort of feminist symbol, she did it for the journey itself.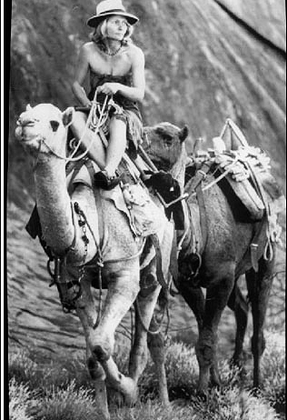 In this fifteen minute interview below with Caroline Baum, Robyn expresses her concern about how the desert has been taken over by the buffel grass introduced from Africa has been drastically altering the herbage for native animals and changing the rich palette of the desert itself.
I never did have the courage to go into the desert alone. But Robyn Davidson's book Tracks gave me the courage to travel to India on my own.
Prior to reading her book, I wouldn't have been able to travel to Melbourne solo. My life became richer as a result of her own journey and her ability to express her desert walk with such eloquence. I became a writer – a different type of writer to Robyn Davidson, but one just as inspired by the tone and palette of my own country. It takes courage to embrace a creative life with all of its dips and heights.
I was most grateful I had the chance to say this personally to Robyn Davidson at the Sydney Writers' Festival. In the next couple of months, I shall post my panels that I experienced with UK writer Kate Mosse and Spanish writer Carlos Ruiz Zafon. Both of these panels were excellent and filled with inspiration so I hope to share them with you.
Here is a link to Robyn's panel from Sydney Writers' Festival. My interaction with her comes towards the end.
http://www.swf.org.au/2013-video-podcasts/making-tracks.html
Yes, Robyn Davidson, you made me feel that I could do anything.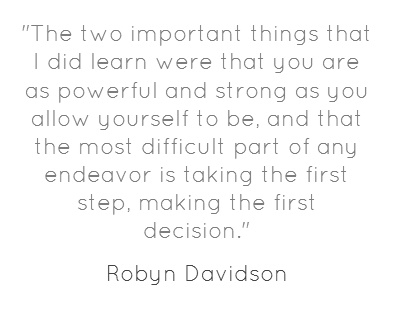 'Camel trips do not begin or end, they merely change form.' Robyn Davidson

If you enjoyed this article and found some inspiration, please share with your online friends. Or leave me a comment to know if you've read Tracks. Is there a particular book that sparked some courage within you? I would love to hear from you.
Some links to articles on Robyn Davidson of interest:
http://www.themonthly.com.au/issue/2012/october/1349327288/robyn-davidson/leaving-tracks-behind
http://www.sbs.com.au/films/movie-news/911113/tracks-mia-wasikowska-and-robyn-davidson-interview
http://www.smh.com.au/national/one-hell-of-a-life-born-of-claypan-and-coolabah-20120928-26qng.html
http://www.abc.net.au/tv/talkingheads/txt/s2345772.htm