Another busy week doing publicity for Poet's Cottage and still trying to finish the first draft of the Currawong book.
This has to be my favourite graffiti in Newtown yet. My friend snapped this photo for me today and no – I didn't do it.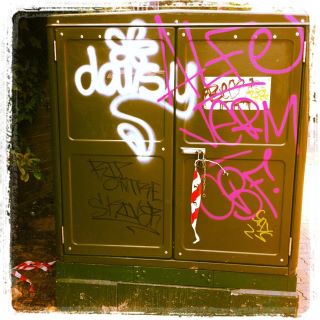 I've so enjoyed meeting journalists like Blanche Clark (Herald Sun, Melbourne) and Steve Meacham (Herald, Sydney). One of the biggest surprises of the publicity part of writing was the pleasure of meeting people whose names I've seen in print for years. Not that I met Blanche in person – but I know what my tired brain is trying to say. I am still being woken nightly by my daughter who has developed a terror of her school-hat at night.
For my Tasmanian readers, the Sunday Tasmanian will be running a piece on Poet's Cottage and the Tasmanian influences behind it this Sunday.
Tonight I am off to see the ever beautiful Jane Birkin sing. I've always been partial to this duet, Je Taime… Mon Non Plus she did with Serge Gainsbourg and have thought I would like it played at my funeral just for a change of pace. My god they both look so beautiful in this video. I read that it was rumoured by the media that Serge had sex with Jane (and his previous girlfriend Brigitte Bardot) when he recorded it. He apparently quipped to Birkin, 'Thank goodness I didn't or it would have been a long playing record.'
Enjoy your weekend. May it be filled with amorous creativity, passion, beauty, and adventures. xx